Clamping Down Nigerians on Social Media Shows APC's APC Lack of Commitment, Maturity, Towards Democracy, Opposition and also Tyr
| | |
| --- | --- |
| | Posted 8:31am, Tue 6th February, 2018 by Nathaniel |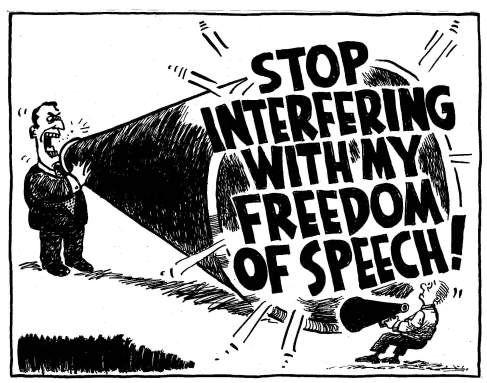 CLAMPING DOWN NIGERIANS ON SOCIAL MEDIA SHOWS APC'S LACK OF COMMITMENTS, MATURITY TOWARDS DEMOCRACY, OPPOSITION AND ALSO TYRANNY.

I am in a dolorous position, thinking very seriously about the recent statement by Federal government on clamping down Nigerians on social media. I think we need to ask some questions with sincere answers about the recent actions of Federal government:

1. Is it a way of suppressing oppositions? Yes
2. Is it a way of allowing Nigerians to be part of government? No
3. Is it a way of improving democracy? No

After you answer these questions then I will like to ask two more questions:

1. What is democracy?
2. What is freedom of speech?

According to Abraham Lincoln, *democracy is a government of the people,by the people and for the people.*

_*Also our supreme law, the Constitution of the Federal Republic of Nigeria 1999 (As Amended) guarantees every person freedom of speech. Section 39 (1) states: "Every person shall be entitled to freedom of expression, including freedom to hold opinions and to receive and impart ideas and information without interference".

Freedom of speech is a founding principle of our civic and democratic tradition which predates our independence. It is a constitutional legacy that has made Nigeria one of the most vibrant polities such that, even in the throes of crushing colonial domination or military dictatorship, Nigerians and their media are culturally attuned to speaking out against stimuli that promote impunity or limit the rights of the citizenry._

Freedom and democracy are often interchangeable,but the two words are not synonymous. The statement *"clamping down"* shows the federal government is not democratic in its process because the best way and medium of communication for everyone is through social media and it has helped in various campaigns and reduced any form of people's gathering for protest and vandalizing government and private properties.

The world is now a global village where people come together regardless of distance, tribe and religion to voice out their dissatisfaction in government and important national issues. In developed or first class countries government are active on social media trying to check what people feel about their administration and performance in a form of check and balance not to clamp down it citizens who expresses his/her opinion or view about the government performance.

So for federal government to clamp down social media users is a form of *authoritarian and dictatorship form of govt which can lead to tyranny.* The recent government decisions are too slow, weak, biased and not pleasing to all Nigerians and how will Nigerians be part of decision making, if not through social media.

Nigerians are not violent people but outspoken since military era. So trying to clamp or stop social media activities is another failure of good governance on the part of APC and president buhari led government.

For example the recent Fulani herdsmen attacks in Benue and other states took a long time for government to act and here we are talking about lives and all government could do is to keep mute for some days before addressing rampant and daily killings of our loved ones in cold bloods. Most of what Nigerians are clamouring is judgement and all forms of criticism both on religious angle, tribal angle and also oppositions view is not to incite violence but to force and hasten up federal government decisions on the killing of humans.

Several times on social media, we see oppositions, notable Americans, media houses and common citizens directly attacking president Trump adminstration, even to the extent of CNN attacking the president of the United States of America saying *their job is not to protect Americans, its yours.*

All the statements/insults from Americans to their government are numerous but due to the fact that the government is ready to work and give room for democracy with people's participation in government they accept any form of criticism to.
Recommended Articles for you
Or visit the Article Archives
.