Cleaning Your Bathroom And Your Kitchen - #CleaningTips
| | |
| --- | --- |
| | Posted 11:05am, Fri 3rd November, 2017 by James |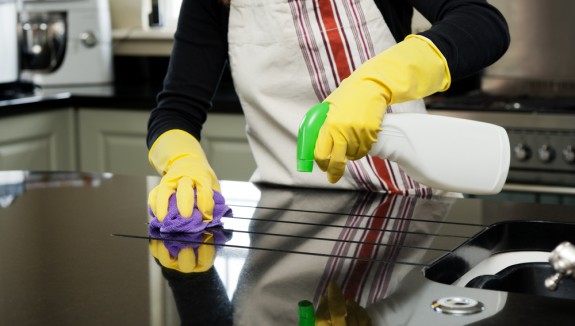 Hello friends, my last article here was on how you could clean your rooms, it was all about the sitting room, the bed-room and every other room, I did not mention anything concerning the Kitchen or the toilet. So this is it, Read and Learn today:


Kitchen

- Wipe down countertops and cabinets (start at immediate right of the stove). Clean face of appliances (refrigerator, microwave, dishwasher).
- Wipe down stove top.
- Clean inside of microwave.
- Soak stove drip pans and knobs in sink.
- Clean inside and around sink.
- Sweep and mop floor (go light on cleaning product in the water to avoid build-up).


Bathrooms

- Remove rugs/wastebaskets (if you haven't already when vacuuming earlier).
- Remove everything from tub/shower.
- Place bath mat in tub/shower.
- Wet tub/shower walls with warm water.
- Apply tile and grout cleaner, allow to sit.
- Spray/clean everything with all-purpose cleaner except toilet, vanity, shower/tub, mirror.
- Fill bucket with 1/4 cup all-purpose cleaner and water to prep for floor cleaning.
- Stand on bath mat and scrub tub/shower walls and door (use grout brush in-between tiles as needed).
- Apply tile and grout cleaner to tub/shower floor and scrub.
- Clean shower rack/soap dishes.
- Clean shower track.
- Rinse off walls of tub/shower and dry with cloth.
- Vanity: spray tile and grout cleaner in sink, soap dish.
- Spray countertop with all-purpose cleaner.
- Scrub sink.
- Use grout brush along faucet and drain.
- Rinse the sink and your rag.
- Wipe the vanity countertop.
- Wipe down cabinet fronts.
- Clean mirror: spray glass cleaner on soft cloth and buff.
- Shine the faucets.
- Wash the floor with solution in the bucket and allow to dry.


Follow all this step and get your kitchen and bathroom sparkling!
Recommended Articles for you
Or visit the Article Archives
.