The Tortise In And Open Field
| | |
| --- | --- |
| | Posted 6:17pm, Mon 2nd October, 2017 by Bobby2naiz |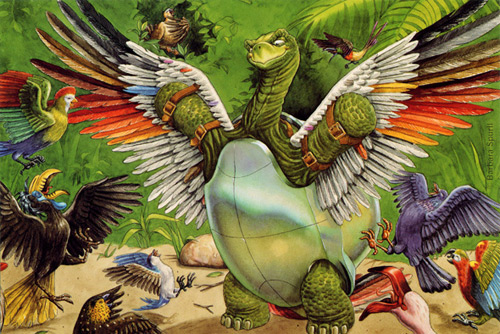 A land dwelling reptile who goes by the name - Tortoise - decided to share great stories of its existence with the family. He called a family meeting which consists of his wife and children. The meeting was held in an open field.

The tortoise shared stories about his youthfull age and how fancy and smooth he looked like, not until the lord of creation decided to hold a meeting in the sky and demanded the presents of all creatures or their representatives. He told his family how united animals were and how attractive and intelligent he was which led to his nomination as representative for other creatures.

In the meeting, all creatures with feathers had decided to donate feathers for whoever the non-feathered creatures chooses as their representative.

The date was fixed and the lord of creation was informed. All animals in the kindom were very happy for him, it was a thing of joy to be honored with such accolade.

Yeah, the ''D'' day is here, tortise was decorated with wings which made him look more beautiful, colourful and radiant. The Tortoise, who had never attended such glamorous banquet in his entire life was full of laughter.


The Meeting Place

They were welcomed by the Lord Of Creation and it was time to alot various animals with their respective gifts.

The Tortise, who happen to sit on the front row was the first to be invited into the inner secrede of the lords chamber. The lord of creation was carried away by the beauty of this colourfull creature; who could this be?

Tortoise was given the opportunity to introduce himself. He tricked the lord of creation into believing he was their (Animals) representative which he could tell from his colourful look. The lord of creation was very pleased to hear that and he poured all the gifts of blessings on him so that he could easily share with his brothers that attended the confrence.

Low and behold, a great noise was set, other creatures demand to know why tortoise wants to leave soon after meeting the lord of creation. Some of the animals that attended the meeting became suspicious of the tortoise because no other creature was called after tortoise. The loud noise attracted the lord of creation, he decided to know the reason behind such roudiness. One of the creatures quickly repllied - ''we are not happy with the way you treated us this time''. "Why?" - The lord of creation asked. He was told how he only invited the creature they decided to help. "Help? Ooo noooo, I just gave him all the blessings to share with you all because he told me he represents the entire creatures". "There is nothing I can do" - says the lord of creation, "I can not retrieve my blessing from him because I have blessed him already" - he concluded. Out of anger, the winged creatures who borrowed tortoise feathers he used to the meeting decided to remove their feathers respectively.

The lord of creation shook his head and left. The tortoise was left without means of going back which led to his broken back because he has to jump from the sky to the earth without wings.



"Unity is Power"
A single tree can never and will never be addressed as forest no matter how huge the tree may be. When we merge forces together, we become stronger.
1. Your BIRTH came through ''Others''
2. Your NAME was given by ''Others''
3. You were EDUCATED by ''Others''
4. Your INCOME indirectly comes through ''Others''
5. Your RESPECT is given by ''Others''
6. Your first BATH was given by ''Others''
7. Your last BATH will be done by ''Others''
8. Your FUNERAL will be organised by ''Others''
9. You will be taken to your FINAL RESTING PLACE by ''Others''; and
10. EVERYTHING you owned will be inherited by ''Others''
Hmmmmmm.....
Why then do some of us let our EGO, our CAREER, our MONEY and our BELIEFS undermine the worth of ''Others'' in our lives, when we are so dependent on ''Others''?
Isn't it high time we learn to live in peace and harmony with ''Others'', because all through our lives, at one point or the ''Other'', we will need each ''Other''?
I Hope you are going to relate this message with your ''Other'' families.
I no gree dey tear shirt ooooo
#written_by_Bobby2naiz_de_story_teller
Recommended Articles for you
Or visit the Article Archives
.