#FireYourBossAfterYearsOf9To5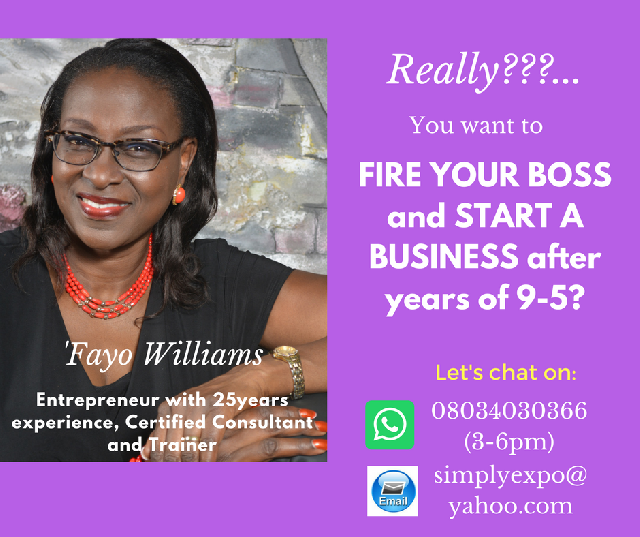 Have you been nursing the idea of quitting the rat-race and starting your own business?

I was in your shoes precisely in 1990... with a job on Kofo Abayomi Avenue, Victoria Island, Lagos; and a son aged 1yr, about to start "j'eleosinmi" (Creche). I was petrified... leaving the maid to pick him up from School was completely out of the question!

I had to put my thinking cap on, re-examine my life goals (one of which was to bring up God-fearing, well-adjusted children). Hmm, something had to give. At a "conference" with my spouse, it was decided that I needed to #FireMyBoss by telling him directly!!!

Would you like to have an opportunity to know the plans which had to be made? The fears I faced and how I overcame them? What crossroads are you at now? Wanna book a 30-min #FireYourBoss Clarity Session?

WhatsApp: 08034030366 (3pm-6pm)
FB Messenger/Email: simplyexpo@yahoo.com

I feel you!
Recommended Articles for you
Or visit the Article Archives
.