Problem Facing Marriages
| | |
| --- | --- |
| | Posted 2:44pm, Wed 26th July, 2017 by Doc•Tee |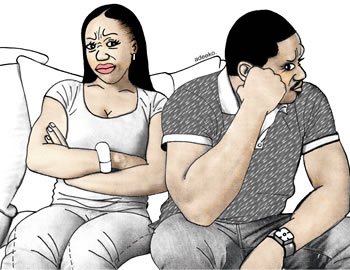 Marriage; a union being put in place to guide the normal course of nature as it ought to exhibit serene mutualism. To some it is a state of being united to a partner of different sex while to others it is a coming together in unity of two love birds. What does the society think of marriage? What is it to you me and the world at large?

Today, we see a world where marriages fail, relationship crumble, people scared of uniting and the society lacking married youths. We hardly find married youths, but why??? Is this due to the problem faced by young couples or their pressure against marriage.

We live in a Society where marriage success is bleak and its success depends on how stable you are financially. People hardly find partners unless they subdue to pressure from the family part of their partner, brooding with family problems as the marriage now seems to be to the family of your partner.

What is to be said of a young couple whose parents asks to stay with? Is this right? Why do we have to allow our human instinct guide us into doing the wrong???

Today's youth are scared of marriage due to cumbersome and huge amounts they are asked to pay as bride price. Some are scared as Traditions have their part to play on deciding the fate of this young couple. Millions of Naira is spent on a marriage whose future appears rather bleak. This has to stop as it is eating deep into the fabric of the society.

In an undefined societal arrangement where some are rich, managing to sustain and just the opposite of it, how do we expect such elaborate marriages to be funded? The members of the lowest societal arrangement are webbed and treated inferiorly because they don't have enough funds to start up their love life, it is now seen not as a union between two people but the spouse, wife and her family at large. A lot of ideology needs to be corrected or refurnished if the society wants to grow.

A wife shouldn't be sent to her husbands house or forced into early marriage just to lift off the mantle of responsibility from the fragile parents and the husband thereby forced to see her through her academic life when he isn't a scholarship board or a sponsor.

To curb this web of ideology and change this problem that has chosen to rupture the future of young couples we have to checkmate the root. The parents have to fight the battle that comes with parenthood and see to it that there wards lacks nothing till the peak of their educational career while the ones who do not have the capability to push their ward through need to understand that it isn't a must or the responsibility of the husband to see to it.

Parent should be an antagonist to interference into the love life of the newly weds and be a protagonist to healthy love life and independence among the couple, and couples should be free to live there love in peace.

Let us come in unity, embrace our humanity, counter all form of ideology that acts as a virology to youth marriages and marriage at large. Lets show the people a way to live in peace and let there be no fear of joining in unison.


Say no to marriage failure... Yes to success in marriages!
Recommended Articles for you
Or visit the Article Archives
.