Why Are South Africans Xenophobic?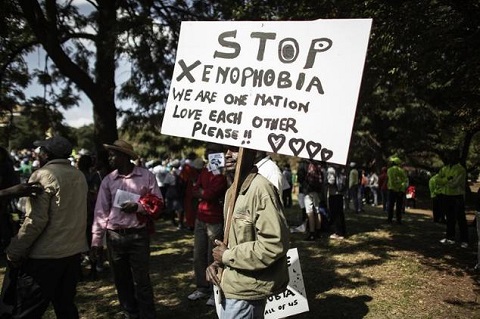 Having followed up the xenophobic attacks melted out by South Afircans to fellow Africans, I cannot help but wonder what kind of world we live in.

These attacks have been blamed on high rate of unemployment, strain on the resources of the country to carter for both its citizens and foreigners, and the high rate of crime by foreigners especially Nigerians.

It is disheartening to hear of such stories simply because, every country has to deal with them sooner or later. It is a social problem commonly found among developing countries, so why is the South African citizens angry at their fellow Africans.

I know some are against this trend but the majority of them share this believe. Is it not why the king of Zulu would Call foreigners: "lices - that they should pack their loads and leave south Africa."

I want to believe they don't have citizens in other Countries, otherwise, they would know how it feels when a xenophobic attack is melted on them or their families, and the long list of family and friends calling to know if they are alright. But of course they do, Majority of the multinational companies in Nigeria are owned by South Africans, with nobody attacking them

I feel their rough history with apartheid, built something inside their hearts, that it has being really hard feeling inferior to some foreigners in their own country. But do someone who has no education, have a right to complain about experienced doctors from other countries taking jobs in his country? Of course no.

This is a country with the highest number of Aids victims, teenage pregnancy in the African continent, yet they complain about crime! When the very first task of training a child is left to a teenage mother alone, with the father no where to be found.

The reason there has not being retaliation for these attacks from other countries and Nigeria especially, is because other countries cannot stoop so low as the south Africans.
Recommended Articles for you
Or visit the Article Archives
.