Big Brother Naija: What's All These Noises About?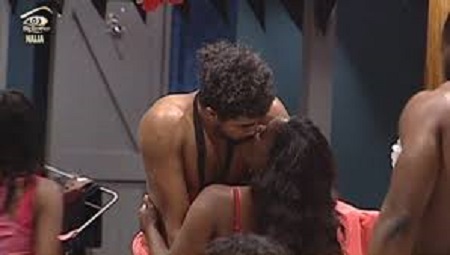 Who started beefing Big Brother Naija?

Everything started with Mike Winning, a Port-Harcourt based pastor who rained curses on the Big Brother Naija Show and its sponsors. The pastor and president of Dominion Glory Assembly, had on Monday, 20th February, 2017 shared on his Facebook page, placing curses on the organizers and the sponsors that if they attempt to air the show next year, their resources will dry up.

He eventually deleted the post, but it had already stirred up mixed reactions and some individuals reacted.


Seyi Law's Reactions

Popular Comedian - Seyi Law - swiftly lambasted Pastor Mike Winning for raining curses on the Big Brother Naija Reality Show and its sponsors. Seyi Law shared his reaction via his Instagram account @seyilaw1.


His words:


----------------------------------------


"What a joke of a Pastor."

"Did Jesus lay curses on those who turned His Father's house to a market place of all sorts or He just rebuked them."

"Some of all these people who call themselves Pastors actually think they are God o."

"Oga Ade, go and have a rethink abeg and ask God for forgiveness. I am not in support of the immoral acts in Big Brother Naija, but as a Christian, when the devil brings darkness, you shine your light."

"If you don't like what they portray, change your channel."

"Pastor, please organize your own Big Christ House and give money that will change the followers of Christ's lives and see if men and your father in heaven won't praise you."

"Pastor talking like Nigeria Government, why is Big Brother Naija been held in SA when they have refused to create an enabling environment to allow businesses to thrive. You curse kor you close ni. Long Hisssssssssss."

"These types of prayer are for your closet not public, Mr. Pastor."

"Praying their resources should run dry. Ah ah, Pastor, do you know how many are on the employment list of Payporte and Dufil, the makers of Indomie?"

"You are a wicked man. Pray a better abeg."


----------------------------------------


Am sure Seyi Law's reaction would've hit the Pastor really hard, but that wasn't all he got. Uti Nwachukwu - former winner of Big Brother Africa (BBA) - came out to defend Big Brother Naija (BBN) and he didn't forget to send Pastor Mike a fitting reply to his "curses".


Uti Nwachukwu's Reactions


Continue reading...


----------------------------------------


"Religion has become a disgraceful divider of brethren. A pastor would open his mouth and lay curses?! What is wrong with Nigeria sef?!! Where in the Bible did Jesus Lay a curse on any human being or their resources?! It was only the fight tree and that was to illustrate faith!"

"Aren't Christians supposed to be Christ like?! Aren't pastors supposed to lead Christians to be Christ like?!!! U have mouth to curse pple. That have changed the lives of others. but u can't publicly curse those that fund terrorism? Those that caused recession? SHAME! *spits*"

"I tell u Nigerians, those of u that follow ur pastors Blindly and not the ways of Jesus will have only urselves to blame! By their fruits... All the big men in positions of power sleeping with underage girls this pastor did not curse. All the sinners paying tithe he did not curse."

"Infact any pastor that condemns anyone and still accepts their offerings and tithes is a Scam and will face the wrath of God!! In Jesus name."

"Pastors jst be misbehaving anyhow in this country!! Some of dem and politicians No difference!! Na we go church pass but wickedness full here!"


----------------------------------------


That was HOT right? Big Brother Naija and its supporters seem to have won the battle, until it took Nigerians took it all to another level.


The PHD Petition

An NGO - Project for Human Development (PHD) - launched a petition on CitizenGO asking the National Broadcasting Commission (NBC) to stop the broadcast of Big Brother Naija. In the petition, the Non-governmental organization appealed to the NBC to ban the reality TV show because they feel Big Brother Naija is a celebration of obscenity, eroticism and idleness.

Here is content of their petition:


--------------------


"Big Brother Nigeria is a corruption of TV Reality shows. The Nigerian public is complaining about the moral perversity in the House of the Big Brother Nigeria. In one episode last two weeks or so, the inmates were shown openly kissing and caressing one another. This is a celebration of obscenity, eroticism and idleness."

"More importantly, it is a big mockery of Nigerian culture and tradition. Since the inmates are Nigerians, they should have been projecting the Nigerian cultural heritage. But instead of doing that, they are bastardizing it."

"The biggest tragedy of the on-going Big Brother Nigeria is that our children are also glued to the TV screen watching it. Children are our future. Therefore we should protect them from lewd exposure, which might prevent their growth into free, independent and well-developed citizens."

"The NBC must live up to its bidding as a body charged with controlling, monitoring, regulating the electronic media and monitoring of satellite transmission in Nigeria. Our TV stations cannot become dumping grounds for all sorts of immoral programs."


----------------------------------------


The petition was kicked off on Tuesday, February 20, 2017, and it surprisingly gotten 12,201 signatures from Nigerians in support of their movement. The petitioners are aiming to gather at least 20,000 signatures.

The "enemies" of Big Brother Naija grew in number when Hon. Olusegun Olulade, Member representing Epe Constituency II in the Lagos State House of Assembly, called on the federal government to reconsider the implications of allowing the Big Brother Naija Show on the Nigerian culture and youths.

He was of the opinion that the contents of the Reality Show were completely foreign to the indigenous culture, which the administration of President Muhammadu Buhari was trying to promote.

He urged the federal government should swing into action through the NBC, and ensures it stopped the airing of such programme before it further caused serious damage to the culture.

Speaking in personal capacity, I don't think it's necessary to that we focus all our attention on getting rid of Big Brother Naija. As a nation, we have much pressing issues to deal with. For an ordinary Nigerian, it's getting more difficult to survive the life threatening grip of recession. So it's now surprising that we focus all our attention on Big Brother Naija leaving pressing issues that matters.

It would have been nice if Pastor Mike had focused on prayers for the posterity of Nigeria. He would have been praised by Seyi Law and Uti rather than lashing him with words. I understand the concerns of CitizenGO and the Lawmaker who cited the "immoral" acts of the housemates as a threat to the transformation of children (who watched the show) into free, independent and well-developed citizens, but I guess that was why the programme was rated 18+. Besides, the parents can activate the parental control on both DSTV or GoTv and their underage kids won't be able to access and/or watched such programmes again.

When actors kiss and do several other immoral acts in movies, we celebrate them with awards and sing their praises. Why are we now hypocritical about those who do same for N25 million? That's not fair! Big Brother Nigeria started in 2006, why should we now criticize it now?

If you want to convince people to stop watching Big Brother Naija, that's cool. But the best way you can do is to create an alternative top it. An alternative that would not include immoral acts. People will shun BBNaija if there is a better alternative, trust me.

Like a friend said, "if you think Big Brother Naija is bad, don't fight. Let God fight the sponsors and participants with thunder. The idea of fighting for one's God is like a creature taking the tools of its creator. The most dangerous idea of religion is the belief that you have to fight for God."

As long as we don't have an alternative, let BBNaija be. What do you think?
Recommended Articles for you
Or visit the Article Archives
.