21st Century Learning for School Leaders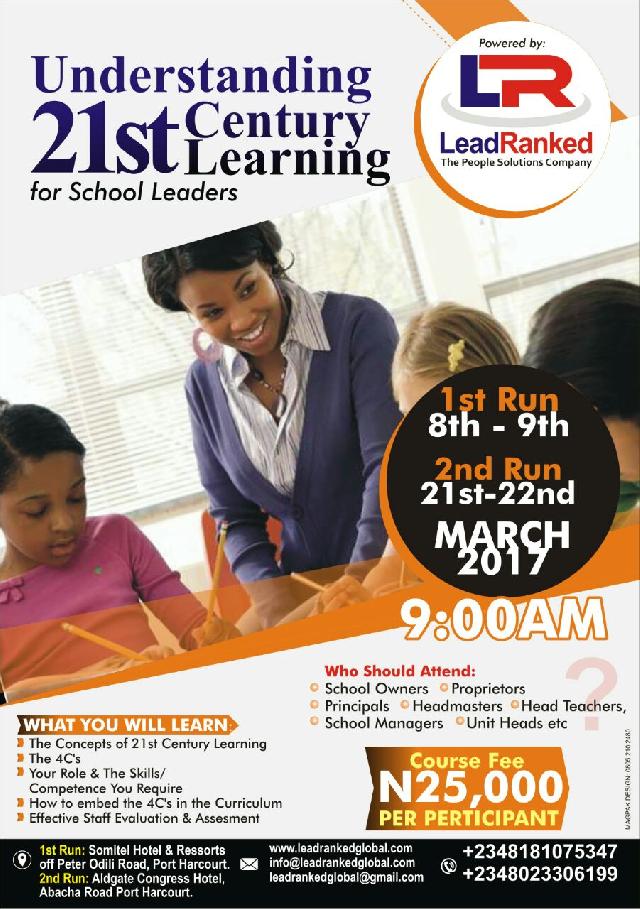 What is 21st Century Learning?

- 21st Century Learning is NOT a Program or a Subject!
- 21st Century Learning is NOT using Technology or Gadgets in your School.
- 21st Century Learning is NOT the use of Ipads of Interactive boards
- 21st Century Learning is NOT a just a new or trending Slogan.
- 21st Century Learning is a rethink of the very structure of Schooling and education!


Role of School Leaders

If there is one factor that distinguishes successful 21st century schools, it is strong leadership. While individual teachers can adopt the practices of a 21st century classroom, the real impact on students is if an entire school embraces and works toward the same vision.


Why You Should Attend

- This Training will enable you gain a better understanding of 21st Century Learning
- Provide you with practical exposure to the 21st Century Learning Skills.
- Provide you with the skills to develop to your own unique vision of 21st Century Education for your School
- Assist in developing an implementable and actionable Strategy
- Drive commitment of staff to implementing 21st Century education initiative.


Who Should Attend

Proprietors, Principals, Headmasters, Head Teachers, Vice Principals, School Managers, Departmental Mangers, Academic Coordinators, School Regulators etc.


Dates and Venue

1st Run: 8 - 9 March, 2017 @ Somitel Hotel & Resorts, Off Peter odili Road. Port Harcourt.
2nd Run: 21 - 22nd March, 2017 @ Aldgate Congress Hotel, Sanni Abacha Road. GRA. Port Harcourt


Bookings and Inquiries

Call us on 08181075347
Text "Seminar" to 08023306199
Email us: info@leadrankedglobal.com


It's time to take your school to the next level!
Recommended Articles for you
Or visit the Article Archives
.