Buhari, Nigeria's Greatest Mistake?
| | |
| --- | --- |
| | Posted 10:31am, Thu 9th February, 2017 by Yemie Fash |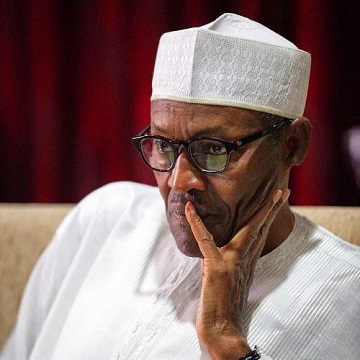 From the inception in May 2015 President Mohammed Buhari's Government has been failing obviously, recall that the chairman of the transperancy monitoring group, TMG, Ibrahim Zikirullahi stated that the continued depreciation of Nigeria's economy is an indication that president Muhammed Buhari led government has no effective strategy to address the problems.

All what the President and his ghost party (APC) are doing is mere experimental pet economic theories , the reality of the absence of a well-articulated and coherent strategy to bring Nigerian out of its current economic doldrums would be seen in the excruciating crunch that is currently subjecting Nigerians to unfold hardships.

Deeming stories of Nigerians who are now forced to engage in theft of cooked foods in desperate moves to deal with hunger calls for urgent attention.

However, its a great regret for a country like Nigeria to have an economic illiterate and cattle oriented person as president, the action of the president has revealed that he values cattle more than Nigerians and their properties. The cattle rearers nearly ruin a whole state (Anambra) without any action from the president, Apparently the President sees nothing wrong in the inhuman actions of the Fulanis.

Over 2000 Christians has being brutally murdered by the same Fulani herdsmen in the southern part of Kaduna state and up till not a single address from the president , the president's silence about the thousands of Nigerians killed by heinous Fulanis is a clear message that President Buhari respect animal rights more than human rights. What a terrible regret for the Nigerian people.

Furthermore, it has been observed and experienced by individuals that Nigerians are really suffering under this battered economy and the rate of unemployment is alarming due to the drastic job loss caused by the unfortunate economic policies of President Buhari's government.

Early in January this year Nigeria recorded an inflation rate of over 13% highest in the history of this country, an economy expert said Nigeria is suffering from "Economic Ebola" . Prices of goods and services has risen above the affordability of the common man, people starve to death everyday because of the incompetence of the President Buhari government, the army of unemployed youths are scary and nobody seems to know what is being done to salvage the nation's battered economy.

finally, hope is not lost, Nigeria can be great again if the president do away with his present incompetent economic team and employ better hands who can implement necessary economic policies to revive the dying economy.


Fasipe Yemi
@YemieFash
Recommended Articles for you
Or visit the Article Archives
.