Are You Going to Sit There and Look On? Empower Yourself Now!!!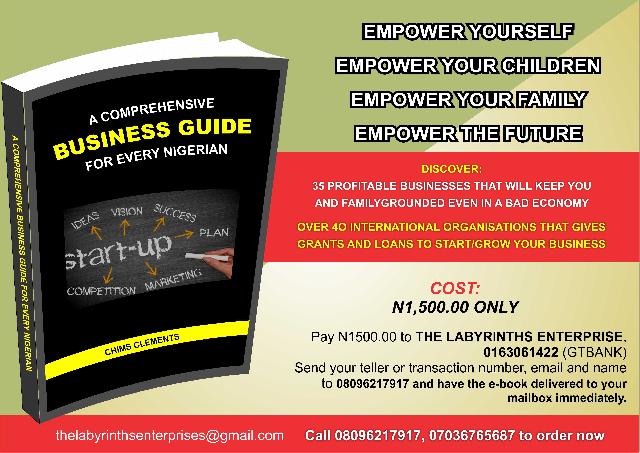 It is no news that the Nigerian economy is battered in a way that inspires a lot of question as to the sanity of the people at the helm. An average Nigerian is finding it very difficult to enjoy the basic necessities of life. How this nation got to this point is what baffles everyone.

What is also worrisome is that the bigger fractions of the population that is energetic and is supposed to be active in production has been lying idle and without any focus and hope. This is dangerous as it breeds crime and menace in the society.

When the youth that is supposed to be the fulcrum that pivots the economy becomes inactive, the nation is bound to contend with so many vices that are likely to abound. It is the function of the government to enact policies that will see to the engagement of the teeming youths (educated and uneducated), but when government fails, as it is the case in Nigeria today, the youth should provide for themselves with what is available, as waiting for the government is tantamount to wasting time and not putting to use the finest quality of manhood.

There are many businesses today to engage in with minimal capital the youth can consider helping themselves make a living. Nigeria is a huge market for a whole lot of products and services. The problem with the average Nigerian youth is lack of drive and the inordinate desire to make money fast. They don't want to be patient and persevere.

In my previous article I highlighted so many errors in the Nigerian school curriculum. A child would continue to be in school until he is 24 without any skill; and at the end there will be no job. Most of them who are smart would still go back to acquire a skill which was possible to acquire while he attended the over-hyped school.

That is the mess we are in today and it is not going to change soon until we understand that a child should start as early as possible to start being equipped before he is 20. This wouldn't keep him away from school; it will help him find his feet in time; be financially stable on time and have a family on time.

This book outlines intensively about 30 businesses one can start in Nigeria with minimal capital to help cushion the effect of the recession we are in today as nobody knows when it is going to end. I implore the Nigerian youth to do away with shame and frivolities. Learn a trade, handiwork and see how your future is going to be bright. Things have changed and a certificate can no longer guarantee a better life. Handiwork and skill will.

I recommend this book for every family as there is something for the children and adults in it. It is relatively cheap so everyone can afford it, read it and put it to action.
Recommended Articles for you
Or visit the Article Archives
.