Sexual Harassment: Who Will Save The Men?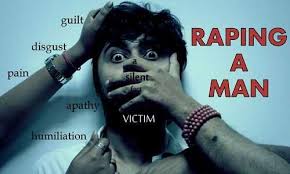 Some weeks ago, while I was scrolling down my wall on Facebook, I saw a video that caught my attention. In the video, the actors were conducting a comparative social experiment on the reaction of bystanders to sexual harassment instances with a man as the victim and also instances that has a woman as the victim. The aim of the experiment was to establish that men too are sometimes victims of sexual harassment.

In the video, a lady was made to touch and speak to a man in an appropriate manner in public. The man refused the advances and screamed for help. Bystanders gave him little or no attention. They just sat there watching and laughing. There was even a guy that walked up to him and said he was crazy for turning down sexual advances from a lady.

Later in the video, they had the guy make sexual advances toward the lady (exactly like she did earlier). Surprisingly, people rushed to her defense even before she verbally refused the advances. It got so serious that some people even threatened to hit the man if he kept touching the lady. So I asked myself some disturbing questions; why couldn't they rush to defend the guy as well? Who would people just decide men can't also be victims of sexual harassment?


What is Sexual Harassment Exactly?

Sexual harassment is universally defined as requests for sexual favors, sexual advances or other sexual conduct when; submission is either explicitly or implicitly a condition affecting academic or employment decisions; the behavior is sufficiently severe or pervasive as to create an intimidating, hostile or repugnant environment; or the behavior persists despite objection by the person to whom the conduct is directed.

Sexual harassment can take different forms, but it generally falls into three distinct categories:

It could be sexual coercion which involves job-related threats or bribes to force unwilling workers to enter into a sexual relationship with the harasser. Examples of this is when an employer threatens to fire an employee if he/she doesn't agree to sex, or situations when a teacher threatening to fail a student if he/she doesn't agree to sex.

It could also be unwanted sexual attention which usually involves unwelcome sexual advances towards someone else in the workplace that that are regarded as unwelcome or offensive. This can include sexual touching, and pressuring for a date. Since it can involve threats or bribes, there can be considerable overlap between this category and the first one.

Then there is gender harassment. This involves hostile behaviors aimed at undermining workers simply due to their gender. This can include denigrating comments, off-color jokes that are intended to be offensive, mocking, and even violent threats. Women expressing strong feminist ideals are often targeted this way. While this is the most common form of sexual harassment in the workplace, it is also the least likely to be seen as harassment.

Despite the serious consequences that can stem from sexual harassment, whether it involves men or women, sexual harassment against men is often not taken that serious. There has been extensive research looking at how sexual harassment can affect women, both in terms of the emotional consequences and reduced job prospects, but fewer studies have looked at how men are affected.


What Does the Statistics Say?

I think it's important to bring it to your notice that sexual harassment of men is gradually on the rise. According to available statistics, one-third of all working men have experienced at least one form of sexual harassment, but the stigma they would face was responsible to why they refused to report such incidents.

I remember I saw a video of a man who was raped by three women. In his submission to the press, he said when the incident happened he told his sister about it and she didn't take it serious. It was when the video surfaced online that his sister believed his tale and took him to a police station to report. If it were to be a case of sexual harassment with a woman as victim, the tale would be believed even if there is no noticeable evidence. There are even instances that women lie about being sexually harassed and the accused is sentenced or even mauled to death even though he was innocent.

When caught in uncharted, dangerous territory, young male victims are left confused and vulnerable. If they should complain, they risk a ribbing from male colleagues while incurring the vengeful wrath of their female boss. Or they should just "man up" and put up with it. It all feels so sadly familiar.

Usually, the case of a female groper is not taken as seriously as the male one. So she continues apace, dispensing unwelcome caresses and inappropriate conversation because she is a woman, and because she can. No wonder cases of men complaining about sexual harassment in the workplace are increasing.


So how do we Save the Men?

Studies on sexual harassment are currently "almost limited" to the instances where a woman is the victim and its negative effect on job satisfaction and psychological well-being. Nothing is currently being done on how it affects men too.

To save the men, I think it's important to develop a better understanding of the kind sexual harassment experienced by both men and women found in different cultures. Efforts should also be made to develop gender-fair policies and training programs to curb sexual harassment needs to focus on all the different ways that harassment can occur, including gender harassment of men and women.

Male victims of sexual harassment shouldn't be left to suffer in silence. It is time we rise up to defend and protect them.


Source: http://buzzass.com/2017/02/01/sexual-harassment-who-will-save-the-men/
Recommended Articles for you
Or visit the Article Archives
.