#ImaBridgeMissions: Over 400 Treated as IMABRIDGE Africa Brings Succour to Asanting Utit Ikpe Community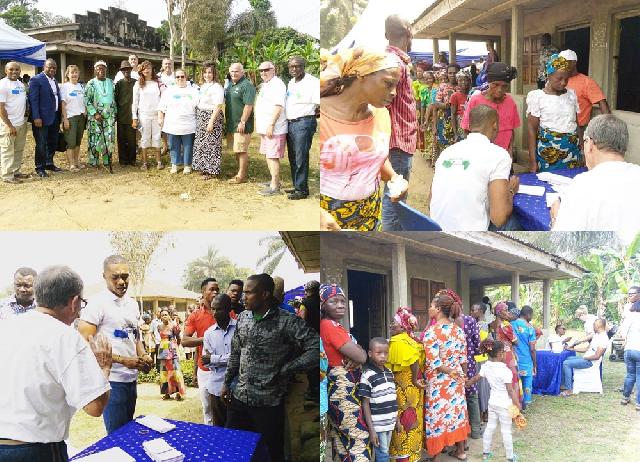 Over 400 residents of Asanting Utit Ikpe in Ini Local Government Council on Tuesday received medical treatment as ImaBridge Africa (IBA) stormed the community on a free medical outreach.

ImaBridge Africa - a faith-based charity dedicated to building transformational relationships between people from dissimilar communities, has been in the state for over a week to provide financial and human resources for projects that empower the poor to eradicate the extreme poverty, promote gender equality, reduce child and maternal mortality and ensure environmental sustainability.

Ailments treated by the US-based team with support from medical volunteers at the outreach included Malaria, Typhoid, Diabetes, High Blood Pressure, Eyes, Ears, Nose and throat infections among others.

Reacting to the gesture, on Tuesday, the village head of Asanting Utit Ikpe, Obong Udofe Udousoro, lauded ImaBridge's efforts in providing free healthcare services to the people. He used the opportunity to call on well-meaning indigenes of the community and the government, to complement this gesture by creating access roads to the community.

The facilitator of the outreach Mr. Francis Usoro expressed satisfaction over the large turnout of residents for the exercise. He poured encomiums on the ImaBridge Team who in spite of logistic challenges, were able to meet up with the huge medical demands of the people. He announced that the exercise will take place annually for the benefit of those people.

The President of ImaBridge Africa Board, Tim Madden, praised the community for their support and reiterated ImaBridge's commitment to building bridges of love across Africa in the areas of Education, Health, Microfinance and Water.

Aniefon Akpan and John Udo Nkukim who are residents of the host community, lauded the gesture of ImaBridge Africa and noted that the medical outreach is the first-of-its-kind in the community.

Earlier, the organization had celebrated Christmas with residents of Owot Uta in Ibesikpo Asutan Local Government Area.

At least 1000 people were fed in the community with support from someone who was once hungry, who in honor of her mother, gave up her Christmas gifts in order to feed other hungry people in the society.

The organization had also offered micro-credit support to Liberated Women of Risk Rescue Team International, visited Pillars of ImaBridge Africa and major stakeholders in Akwa Ibom State including the Governor, His Excellency Mr Udom Emmanuel and the Speaker of the Akwa Ibom State House of Assembly, Rt. Hon. Onofiok Luke, Arch Bishop Elijah Mboho and Apostle Akan Weeks.

Meanwhile, ImaBridge Africa is called to aid the African rural poor in developing skills, knowledge, attitudes and experience for self-reliance and the capacity to work together to solve their leading problems.

This they have shown in their current visit to the state by providing financial support to victims of the collapsed Reigners Bible Church building, conducting 27 surgeries, treatment of over 300 patients in Afaha Offiong, Nsit Ibom, 200 patients at Ikot Idem Udo in Onna, over 400 in Ikot Ekop and over 700 in Owot Uta, all in Ibesikpo Asutan Local Government Council.

It is on record that ImaBridge Africa has given out over 60 educational scholarships since its inception, drilled 7 solar-powered boreholes with electromagnetic purifiers across that state, and sponsored several children in creative arts. The organization has also performed a major surgery on a 6-yr old girl with clubbed-feet, who is now able to walk.

ImaBridge Africa (IBA) works cooperatively with diocesan leadership at the grassroots level in Africa on priority development projects in health, economics, education, empowerment of women and social justice.

The visit to Asanting Utit Ikpe is the 5th Medical missions undertaken by the organization in Akwa Ibom State and they hope to do more in the days to come.
Recommended Articles for you
Or visit the Article Archives
.