Corruption - Our Major Problem in Nigeria!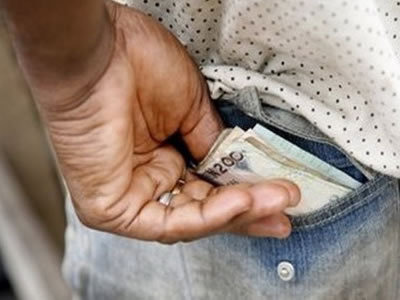 Corruption is illegal, dishonest, or immoral behavior, especially from someone with power, for some Leaders in Nigeria see corruption as Fashion, for me I define Corruption as a Tree with many strong Branches that can lead to Destruction of a well Built Nation. What many people work very hard to build. Stealing of public funds as a leader to your own personal account.

Nigeria as the giant of Africa in 2014 the Transparency International (TI) has ranked Nigeria the 136th most corrupt country in the world and the 3rd most corrupt country in West Africa after Guinea and Guinea Bissau.

In its 2014 Transparency International Corruption Perception Index, the group said it ranked 174 countries it surveyed based on how corrupt their public sector is presumed to be. The measurement is based on a scale of 0 to 100 with a score of 0 perceived as "highly corrupt" and 100 "very clean". Nigeria was ranked 136th in the world with an index score of 27.

Corruption leads to poverty and poverty leads to disorder and other misconduct, such as Bribery, Stealing, Armed Robbery, Fraud, House Break-ins and many more others that can lead to lack of peace in the nation. Our Politicians, Judges, Schools, Uniformed Men/Women, Places of Worship, anyone with power or high position practice corruption, only a few are clean.

Corruption simply means breaking the law of the country - cheat or manipulate anyone under you or not up to you, by power of your uniform or position in the country or the rich to the poor. Nigeria, as a powerful and strong Nation in Africa it's time we should fight this act, we should treat tribe and religion as one to avoid discrimination. Indeed most people don't understand this, if only we can avoid the minor act of corruption, that is when we will eradicate the major ones, and only if we do justice in our homes and work places.

In Nigeria now you have to pay before you get a job, you have to spend years in higher institution just to have the qualification required to have the job, but you have to give money to get the job in return and that is Bribery. Both of you are corrupt Individuals, you collecting the money is like you are killing him. You don't know what kind of stress he went through, he can steal or even rob to get the money, with this how do you expect to eradicate poverty while those with high position and power in the country don't pity the poor and weak ones.

Corruption is the major problem we should fight in any activities we do. The differences between corruption and insurgency is insurgency kills you and makes you no more while corruption kills you and still leaves you alive to suffer the repercussions. That is why someone with an ungrateful mind can commit suicide when he is tired of poverty. In Nigeria those with no qualification and are not qualified are those ones having good jobs and earning much just because they have someone up there with power and due to our corrupt mind and lack of justice/discrimination.

In Nigeria corruption is akin to cancer as the great English Intellectual Rev. Charles Caleb Colton (1780-1932) put it: "Corruption is like a ball of Snow, Once it's set a rolling it must increase". Indeed this has been the Nigerian experience with Corruption developing to such staggering proportions that it is now not only the bane of the country, but has largely defied present and past efforts to stymie it.

The position now is that corruption is so entrenched that anyone hoping to do any kind of business with the Nigerian bureaucracy must take it into account. The situation is now so bad that even some Government officials are alleged to bribe one another to get government business done. But in the political Arena, Nigeria has found it difficult to prove corruption, but also impossible to prove its absence. Indeed there are indications that many Nigerians, some of them Politicians, retired Civil Servants, Judges and a few Generals, have engaged in corrupt practices. Politicians are often placed in apparently compromising positions because of their desperate need to solicit financial contributions ostensibly for their campaigns, but in reality for rigging elections, they appear sometimes to be acting in the interest of those parties that sponsor them but mostly they are driven by personal aggrandizement.


Political Corruption is persistent phenomenon In Nigeria

President Muhammad Buhari defined corruption as the greatest form of human right violation since the creation of modern public administration in the country. There have been cases of official misuse of funds and resources, the rise of public administration and the discovery of oil and natural gas are two major events seen to have lead to the increase in corrupt practices in the country. However, some Analysts. ave also blamed colonialism for the amount of corruption. According to this view, the nations colonial history may have restricted any early influence in an ethical revolution; "the trappings of Flashy cars, houses and success of the colonist may influenced the poor to see the colonist as Symbols of success and to emulate the colonist in different political ways". Involvement in the Agenda of colonial rule may also inhibit idealism in the early stage of the nascent nations development. A view commonly held during colonial days was that the colonists property (cars, houses, farms etc) is not "OUR" property, this vandalism and looting of public property was not seen as a crime against society. This view is what was degenerated into the more recent disregard for public property and lack of public trust and concern for public goods as a collective national property.

The Government has aimed at containing corruption through the enactment of laws and the enforcement of integrity systems, but success has been slow as at 2012, Nigeria is estimated to have lost over $400 billion to corruption since independence.


What is the Solution to Corruption in Nigeria

The Government in Nigeria are trying their possible best in eradication of corruption, by creating Anti-corruption Agencies like the EFCC, ICPC etc., but why are all these measures not stopping corruption? They are working and getting paid but the rate of corruption is still increasing. In my opinion corruption should be fought at the lower level. Any misconduct starts from a lower level to the higher level. If it can be fought at the lower level then this can avoid its growth or increase so the higher level of it should be well monitored by the Agencies. If this solution is been applied to corruption in Nigeria I'm sure Nigeria will change for the better.

Government should create more jobs for the youth, or give them opportunities to make them self-reliant, and the Anti-corruption Agencies should monitor all our Politicians and Civil Servants on how they carry out their day to day activities, like wise in our colleges of education, Polytechnics, Universities, the government should treat every Nigerian as one regardless of their religion or tribe to protect and put our country in good stand to attract the interest of anyone outside the country.

Indeed for corruption to be eradicated each and every Nigerian must fight against it, don't take/don't give Bribe, due to the lack of job opportunities graduates and non graduates take part in internet fraudulent activities to earn money just to satisfy their needs.

The Government of Nigeria should provide well satisfied opportunities for the youths, the salary of our workers should be well satisfactory to their need. I call on our Politicians, Soldiers, Police and all Uniform Men/Women, Pastors, Islamic Scholars, should treat each and every Nigerian as one to avoid discrimination and other misconduct for a good and better Nigeria. We should love and care for each other as Brothers and Sisters, we should have it in mind that corruption is our greatest enemy and have it in mind that one day corruption will be history or a story to tell.

Long live the Federal Republic of Nigeria.

Write up by: Mujahid Saleh Saad
From Bauchi State
Recommended Articles for you
Or visit the Article Archives
.