Tips for Upcoming Musicians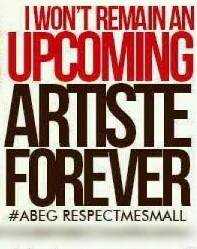 From our User Statistics, Musicians make up 10% of all our members registered on Naibac. The Musician category is also the largest category out of all the 100+ Categories available on our site. That's an indication that there are a lot of upcoming Musicians out there desperately trying to put their music out there and get people to listen to it.

At Naibac we help get Upcoming Artistes discovered by promoting their Music on SocialMedia for Free! We want to be a part of your Success Story! We decided to create this Article to give the Upcoming Musicians registered on our site some Tips on what to do to get more exposure for themselves and their Music. These Tips are based on our own experience and interactions with the Musicians registered on our site.

1.) Is your Music really that Good?

Every Upcoming Artist needs to sincerely ask themselves this question and be truly and brutally honest. If you're not good at criticizing your own work then get other people to do it for you. Sometimes getting Friends and Family members to listen to your Music is not the best Idea because they may not want to hurt your feelings. Most times asking complete strangers to have a listen might be best because they're more likely to be brutally honest. If one or two people don't like it don't take it to heart, after all there are different genres of Music that appeal to different people.

2.) Are you ready to Work Hard?

This game is not for the timid or the shy, not for the lazy or weak of character, it's for the persistent, it favours the bold, it belongs to the diligent, the go-getter. Ask everyone that has made it in the Industry, they all have one thing in common; Hard Work. Make up your mind now, if you're not willing to put in the hours, long nights, self-development, learning, disappointments, then you might as well quit now and don't bother reading on...

3.) Don't be Cheap

Quality things don't come cheap. As with every Business endeavour you're going to need a budget. You're going to need money to rent a Recording Studio, New clothes and accessories for that Photoshoot that you'll also pay for, Graphics Design, Album Art, Promotional Graphics, Marketing and Advertising, etc. If you enter with a "Poor Man" mentality then you'll try and cut corners in each of these categories and the quality of your overall packaging will suffer as a result.

No we're not saying you need a budget of ₦10,000,000 to get started. Do your home work, do some research, the same way that you're an upcoming Artist, so too are there a lot of upcoming services out there that are high quality but low priced because they're looking to grow their customer base. Take advantage of this. We have a lot of people that fall into this category on our site. Take your time to Browse Through our Professional Categories

4.) It's all about the Packaging!

So you've got a hot track and this fact is confirmed by both Friends, Family members and even complete strangers that have sampled it. What's next? Unfortunately human beings are wired to judge books by their covers. People are busy, especially the very important people in the Music Industry that can give you the big break you need. You need to package yourself and your music in a professional way for people to take you seriously. What do I mean by this?

a. Record your Music in a decent Studio
No need to buy substandard equipment and create your own Studio when you can rent a Studio nearby with Professional Equipment and good Producers for a reasonable amount.

b. Appearance Means a lot
Invest in some new clothing and accessories to compliment your Music Style and Message you're trying to pass across. Hire a photographer and capture some good promotional images. Nigerian Tailors are brilliant, patronize them. We also have a lot of talented Photographers out there. People of both categories are in abundance on our site.

c. Get yourself a Professional Graphic Artist
There are a lot of brilliant and talented Graphic Artists out there. Better still, we have a lot of talented Graphic Artists Registered on our Site. They can help you out with your Album Art and Promotional Graphics.

5.) It's time to make some Noise!

You've got a hit track, put your game face on, got some money saved up, properly packaged yourself and now it's time to make some noise. You need to use every channel available to you to push yourself out there. You also need to be smart about it so you don't blow your budget on a course of action that yields little to no result.

Before you even mention money, look for every Free opportunity you can to push your Music. Naibac is a great example because we help you promote your Music on Twitter and Facebook to thousands of users daily for Free! Upload your Music to different websites and online platforms like SoundCloud, Spotify, TooXclusive, NotJustOk, HulkShare, iTunes, Amazon, Deezer, 4Shared, etc. Your presence on each of these popular platforms will help your online visibility. Make sure you've already created Social Media accounts for yourself on Twitter, Facebook and Instagram and you're actively pushing your Music and asking others for Feedback.

If you've got the funds you can then explore the paid services online and offline like Local Radio. Some of these radio stations are looking for music from upcoming Artists to fill their program slots so they may give you a good deal or if you're lucky maybe even a Free slot.


In Closing...

Personally, the Hustle is the sweetest part of the Journey. It's the part where you take the biggest risks, where you lay everything on the line in pursuit of a Dream. Where you go against all odds, persevere through paths of great resistance, stumble, get up, dust yourself off and keep going until one day you finally get your moment in the spotlight. Maybe that's why the 1st couple of Albums by most Artists are the best.

Just don't forget us when you get to the top! :)

Are you an upcoming Musician with stories to tell? Or you've passed through this level and made it out the other side alive and you've got some tips and experiences of your own to share with the newbies? Then please drop a comment and we'll add it to the Article to help others.

Whatever you need as a Musician; Recording Studio, Producer, Beat Maker, Graphic Artists, Photographers, Fashion Designers, Promoters etc you can find professionals on Naibac, just Search Here: http://www.naibac.com/searchProfessional_page.php

For more Naibac User Statistics information check out our Statistics Page.
Recommended Articles for you
Or visit the Article Archives
.