In 3 Words I Can Sum Up Everything I have Learned About Life
| | |
| --- | --- |
| | Posted 2:55pm, Mon 8th February, 2016 by Henry Okeh |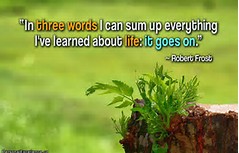 Living a happy life becomes very difficult, when you canít let go of the past. The effects are far reaching, since it gets us caught up in a false state of mind, making it appear as if only the past mistakes seem to matter.

Some of the effects include squashed dreams, stressful relationships, and a distorted view of yourself, which can make you feel sad and frustrated every day. The good thing is that you can easily heal the pain of the past, and let us deal with that right now, so you can live life in happier ways.

Let your emotions flow. One common mistake that we make, is ignoring our emotions. Learn to cry if necessary, forgive, and move on. Make your tears the seeds of a happier life. Feeling emotions will make it easier to understand why you were upset, and subsequently will let you move on with life. Please go to my blog to read more!
Recommended Articles for you
Or visit the Article Archives
.